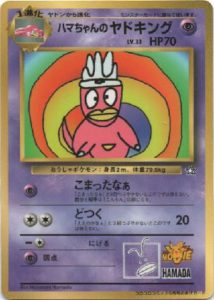 | | |
| --- | --- |
| Card name | Hama-chan's Slowking |
| No. | Unnumbered |
| Information | September 1999 CoroCoro Comic (August 1999) |
| Print type | Glossy |
Check
To current search results for this item
Origin: What is Hama-chan? (of Hama-chan's Slowking)
Hama-chan is Japanese famous comedian. His name is Masatoshi Hamada.
Masatoshi Hamada and his childhood friend Hitoshi Matsumoto teamed up as comedy duo Downtown. When they had their own TV shows in late 80s, they became phenomenal pop culture among young Japanese people. Unlike other comedy duos in Japan, they are still together, and they dominate prime time TV shows in Japan.
He was in charge of Slowking's voice in movie The Power of One (Japanese: 劇場版ポケットモンスター 幻のポケモン ルギア爆誕 Pokémon: The Movie 2000) released in 1999 and He drew an illustration as well.
In movie, Slowking has intelligent and was able to talk people's language just like Meowth.
Related articles
Top 35 CoroCoro promo cards! About the Japanese Pokemon Card value