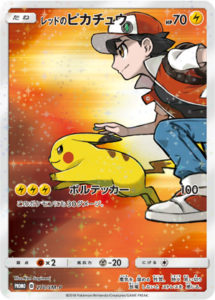 | | |
| --- | --- |
| Card name | Red's Pikachu |
| No. | 270/SM-P |
| Information | Pokemon Center 20th Anniversary Campaign |
| Print type | Holo |
Check
To current search results for this item
How to get Red's Pikachu
This card was available as part of the 20th Anniversary celebrations of the first Pokemon Center. Starting August 25, 2018 for as long as stocks lasted, customers at participating Pokemon Centers (including the Pokemon Center Online) and Pokemon Stores who purchased five booster packs in one transaction were given this card.
Official info - Pokemon card「ポケモンセンター」オープン20周年記念、杉森建氏が描いたアートの「プロモカード」をプレゼント!
Additional information from the official announcement
Red's Pikachu is running out of stock in multiple pokemon centers. Pokemon center says that we are going to give out again for this promo card from mid-October. https://t.co/ptNLjCLgiB

— PokeBoon-Japan (@PokeBoonJapan) September 1, 2018
プロモカード「レッドのピカチュウ」のプレゼントについて

「ポケモンセンター」オープン20周年を記念してプレゼントをしております、杉森建氏が描いたアートのプロモカード「レッドのピカチュウ」ですが、想定以上のご好評を頂いており、複数の店舗でお客様にお届けできない状況となっております。
お客様にご迷惑をおかけしておりますことを、心よりお詫び申し上げます。

本プロモカードに付きまして、10月中旬より再度のプレゼントを予定しております。
詳しいプレゼント方法につきましては、今後告知をしてまいります。
何卒ご理解を賜りますよう、よろしくお願い申し上げます。
Related items - Red's Pikachu card file and sleeves
Red's Pikachu is a special artwork by Ken Sugimori. There are several related products.
This picture is one of my collections.
Official Pokemon center Online「レッド & ピカチュウ」