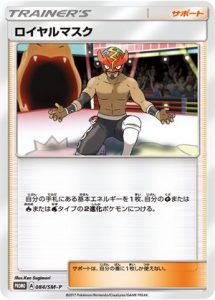 | | |
| --- | --- |
| Card name | The Masked Royal |
| No. | 084/SM-P |
| Information | Shining Legends 10 booster pack purchase |
| Print type | Non-Holo |
Check
To current search results for this item
This card was given to customers who purchased 10 packs of booster packs Shining Legends at a participating store.
Separately, It was possible to apply together with the BOX purchase campaign, so When purchasing a BOX, we able to get one "Shining Ho-oh" and two "The Masked Royal".
083/SM-P Shining Ho-Oh | Pokemon TCG Promo
Official - Pokemon card「ひかる伝説の特別なキャンペーン」
Related cards
The Masked Royal also has full art promo. Full art Masked Royal exists only 100 copies in the world.
085/SM-P The Masked Royal | Pokemon TCG Promo